Apply directly
Aerial work platform (AWP) course (cherrypicker)
Taking a AWP course ensures that operating a AWP can be done safely and competently. This is important, because operating an aerial work platform naturally involves risks. Because work is carried out at (great) heights, it is crucial that this is done with a view to personal safety and that of the environment. The correct knowledge of working with an aerial work platform contributes to creating a safer working environment and prevents damage and accidents.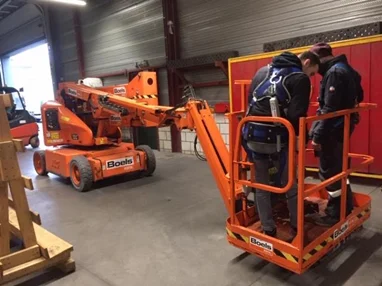 Course Program
The course is carried out according to the following step-by-step plan:
The course that is given during 1 day or 2 evenings / half days (each of 4 hours) contains the following modules:
Day part 1:
Safety A.I. 14 and Working Conditions Act
Types and models
Inspection before use
Safety requirements for use
Selection order
Definition and deployability of MEWPs
Theory exam
Day part 2:
Awareness of dangers and risks
Movements of the lifting surface
Visual inspection of the aerial platform
Function test
Practical exercises
Practical exam
It is also possible to give the course at your location. An advantage here is that you and your employees train in your own environment and with the equipment that is also used after the course.
Trainer
The course is provided by a trainer from under the direct responsibility of the training coordinator and the management of Arbo Opleidingsinstitut Nederland,the AOIN.
Certificate
The AOIN course is concluded with a valid personal certificate.
Participation
All our courses include:
Lesson day (s) in modern classroom with modern audiovisual equipment;
Expert, trained and experienced teachers;
AOIN teaching materials;
Fresh lunch per class day;
Coffee/Tea;
Exam.
Request form


Aerial work platform (AWP) course (cherrypicker)