Apply directly
Small fire extinguishing equipment course
The small fire extinguishers training course is intended to become acquainted with the existing small fire extinguishers and the application of these substances. In addition, you will be introduced to knowledge of fire classes and fire risks. Through practical exercises we try to prevent a shock reaction in a practical situation. The student knows afterwards with which extinguishing agent and how to extinguish in a safe manner.
This course is a requirement in the Petrochemical sector. The target groups include employees who work in installations, workshops or laboratories on a (petro) chemical industrial site.
If desired, the practice can be given at your location for better integration of the emergency response organization and for responding to matters that are relevant to practice.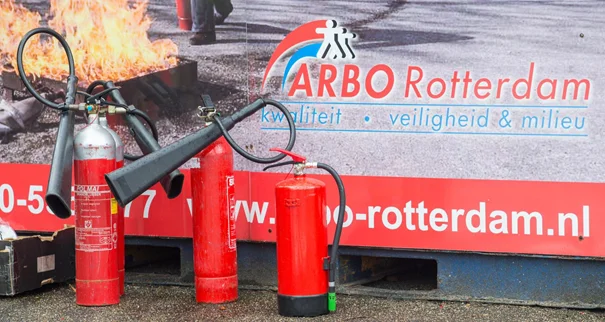 Topics covered are:
Theory
burning and extinguishing;
fire classes A, B, C;
portable fire extinguishers;
fixed extinguishing systems;
causes of fire;
fire prevention;
alarms.
Practice
extinguishing exercises on various objects;
prevention measures.
The objective is that the student makes the right decision at the right time, can work safely with all extinguishers and fight a starting fire in a safe manner.
All Arbo Opleidingsinstituut Nederland courses, the AOIN courses are interactive, practical and realistic, with recognizable examples from practical situations. It is therefore important to us that the teachers have extensive practical experience and teaching experience. The teachers are tested, evaluated and retrained annually so that they are kept informed of relevant changes and developments within the field.
Trainer
The course is provided by a trainer from the AOIN under the direct responsibility of the training coordinator and the management of the AOIN.
Certificate
The AOIN course is concluded with a valid personal certificate.
Participation
All our courses include:
Lesson day (s) in modern classroom with modern audiovisual equipment;
Expert, trained and experienced teachers;
AOIN teaching materials;
Fresh lunch per class day;
Coffee/Tea;
Exam.
Request form


Small fire extinguishing equipment course