Apply directly
Emergency Response Course
All companies, institutions and organizations must have a well-trained person who is able to provide first aid in the event of accidents or calamities. The in-house emergency response course enables you to meet this obligation. The Emergency Response Course was developed by Arbo Opleidingsinstituut Nederland, the AOIN on the basis of the attainment targets as established by the Netherlands Institute for Emergency Response in Rotterdam (NIBHV). The Basic Emergency Response course is certified by the CBR / CCV in the context of the Professional Competence Directive (compulsory refresher training for driver's diploma, Code 95).


Course program
The course that is given during 2 days or 4 evenings / half days (each of 4 hours) contains the following modules:
Day 1
Tasks of the emergency response officer
Communication during incidents
Fire fighting
Evacuation plan
Fire extinguishing instruction
Exam
Day 2
Consciousness disorders
Respiratory disorders
Circulatory disorders
Ventilation
CPR
Bleeding
Exam
Both modules consist of a theoretical and a practical part. Using oral and visual presentation techniques, the teacher will discuss and explain the various modules and the paragraphs contained therein as clearly as possible. By asking "open" questions and conducting targeted conversations, he ensures that the teaching material is understood and supported.
All course materials are included in the price and all day courses include lunch. In consultation with you, the training is planned during working hours, the evening or the weekend, either in-company or on location. Obviously, the open registration is also possible.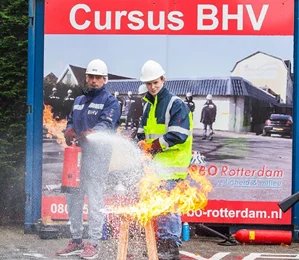 Trainer
The course will be provided by a teacher from the AOIN under the direct responsibility of the training coordinator and the management of the AOIN.
Certificate
The AOIN course is concluded with a valid personal certificate.
Participation
All our courses include:
Lesson day (s) in modern classroom with modern audiovisual equipment;
Expert, trained and experienced teachers
AOIN teaching materials;
Meal per class day;
Coffee Tea;
Exam
Request form


Emergency Response Course